What is the best bedroom paint colour? Just like the room itself, the answer is always: it's personal. Browse these beautifully painted bedrooms and get inspired by the transformative power of colour. So what is the 2022 Best Benjamin Moore Bedroom Inspiration for the Home?
Make your bedroom the perfect space to refresh and relax with Aura® Interior, Benjamin Moore's most premium paint. After all, when it comes to your private sanctuary, you deserve brilliant, rich, everlasting colour.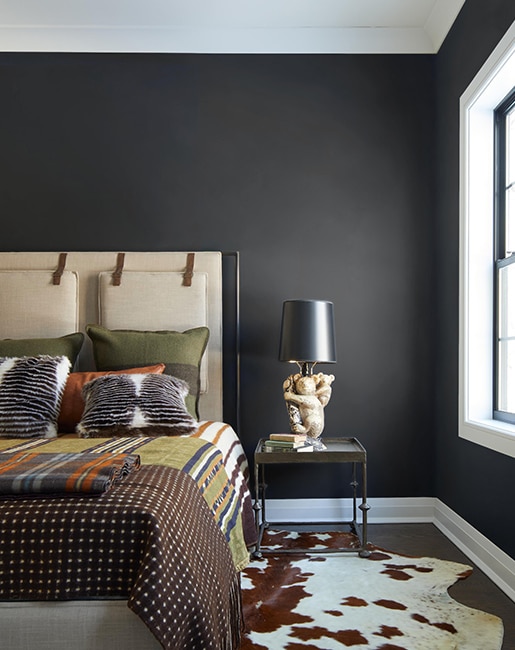 Popular Paint Colours for Bedrooms
The best bedroom paint colour is the one that feels just right for you, but knowing what other homeowners love always helps.
Simply WhiteOC-117
Soft ChamoisOC-13
Wind ChimeAF-465
Wickham GrayHC-171
ConstellationAF-540
Silver Half Dollar2121-40
First Light2102-70
Abalone2108-60
PashminaAF-100
Chelsea GrayHC-168
Smokestack Gray2131-40
Evening Dove2128-30 https://www.youtube.com/embed/1y1fVGAsosk?rel=0&enablejsapi=1&origin=https%3A%2F%2Fwww.benjaminmoore.com Ready to infuse your bedroom with Benjamin Moore's unique colour? Get inspired by bedroom colour ideas and craft a relaxing respite of your very own, informed by the power of colour.
Transform Your Bedroom with Colour
Seeing is believing. Explore the powerful impact a range of expertly chosen Benjamin Moore paint colours has on one bedroom. Paint colour highlights from the video include:
Inspired by the bedroom colour ideas in this video? Sample them at home!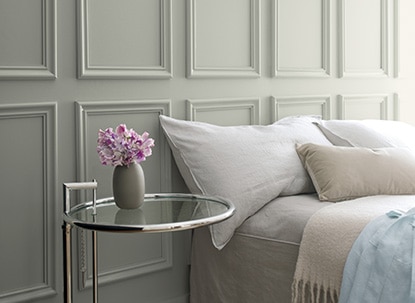 How Bedroom Paint Colours Influence Mood
Do you need a wake-up spark to motivate you? Or do you prefer a cocoon for a pure respite? Keep these colour tips in mind:
Soft, warm colours are often used for cozy and intimate spaces
Cool hues create calm, yet refreshing atmospheres

Deeply saturated paint colours energize and envelop
If your ultimate goal is simply a tranquil bedroom, you can never go wrong with neutrals, off-white and soft gray paint colours.
Dive deeper into your colour journey with tips on shaping Your Personal Colour Palette.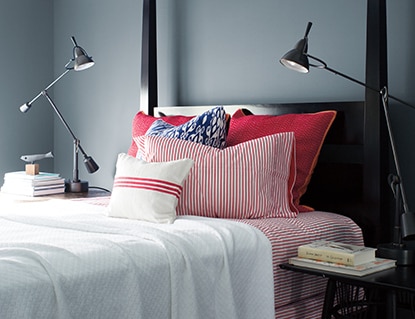 Our Favourite Relaxing Bedroom Colours
Just breathe.
Eager to choose a soothing bedroom colour scheme that drifts you effortlessly off to dreamland? Check out our favourite calming colours and use them as your guide.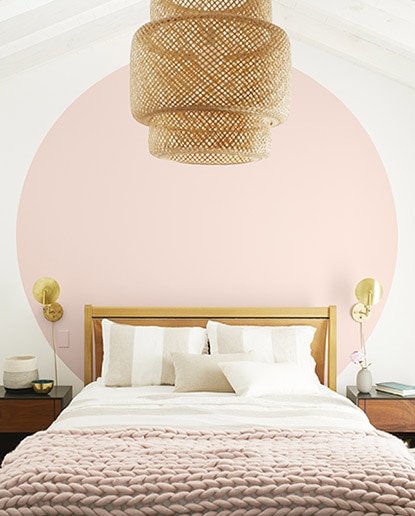 Pretty in Pink
Against cool White Heron OC-57-painted walls, soft pink of First Light 2102-70—the Benjamin Moore Colour of the Year 2020—really pops.
The light pink graphic circle adds playful drama to this bedroom, while gold accents lend a luxurious touch.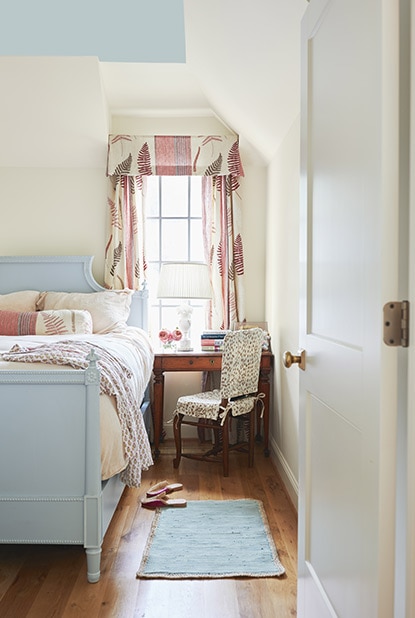 Explore Your Bedroom's Fifth Wall
When it comes to bedroom paint colour ideas, the ceiling is often overlooked. While classic white paint is a perennial favourite, a pop of ceiling colour enhances a bedroom's character. Here, Concord Ivory HC-12 is an interesting ceiling colour choice paired with Metropolitan AF-690 on the lower panel insets and Barren Plain 2111-60 on the upper panels.
Especially in a small room or a room with a lower ceiling, lighter ceiling paint colours can make a room look larger and taller. We love Summer Shower 2135-60, Beacon Gray 2128-60, and Hollingsworth Green HC-141. Look for a ceiling colour that's a lighter shade or slight variation of your wall colour.
Here, the Smoke 2122-40-painted ceiling gives a sky-like energy to an otherwise off-white room.
Doing it yourself? Get tips in our How to Paint a Ceiling video to get started!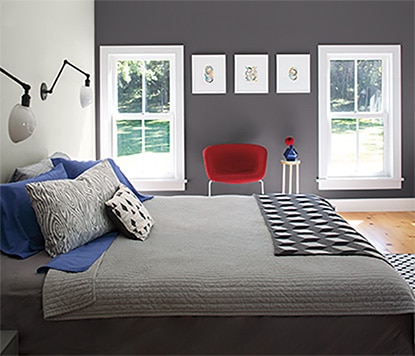 Get Fresh, Modern Paint Colour in the Bedroom
Consider a contemporary edge for your bedroom. Here, the simple, clean lines of modern design pair perfectly with layered grays, as seen in this room, painted in striking Aura® Colour Stories® colours: Arctic Seal CSP-15 and Perspective® CSP-5.
Other popular bedroom colours for a clean and contemporary look include whites like Simply White OC-117 and Soft Chamois OC-13, and soft grays like Classic Gray OC-23, Gray Owl, OC-52, and Paper White OC-55.
Try this for a sleek, modern look: Use the same colour on the walls and trim in different sheens to create subtle contrast and a more pared back, Zen-like space.
Related Posts