KITCHEN COLOUR
IDEAS & INSPIRATION
Now is the time to put our kitchen colour ideas on the menu! Refresh the busiest room in your house with the most popular Benjamin Moore kitchen paint colours. Here are the 2022 Best Colors, Styles & Inspirations for the Kitchen.
Our favourite kitchen colours offer welcoming colour combinations and enticing kitchen hues you and your family will love.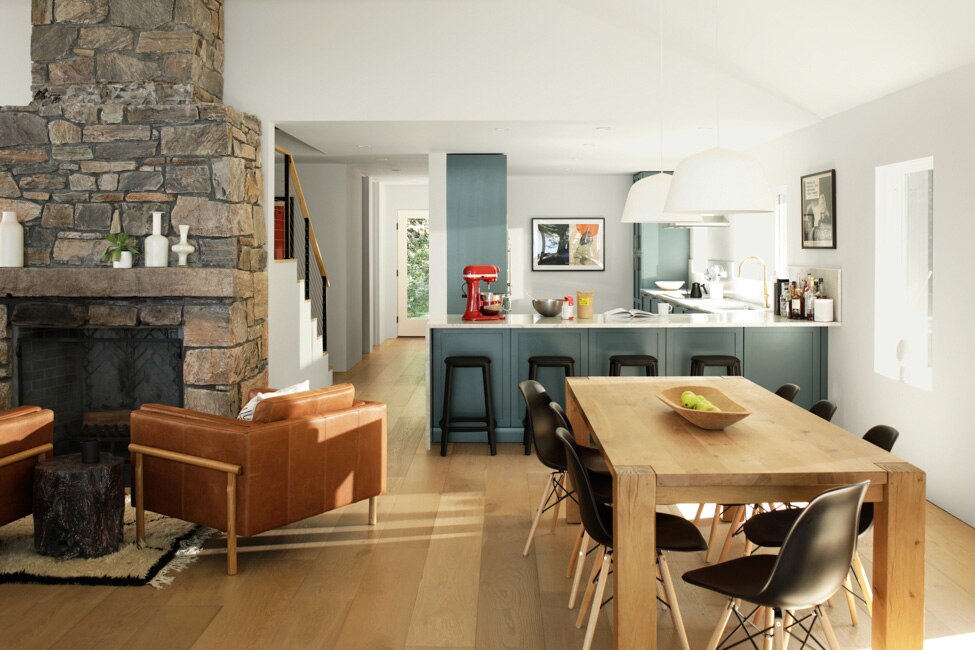 Best Kitchen Paint Colours
While "best" is always subjective, here are a few kitchen paint colours homeowners turn to again and again. Which ones catch your eye?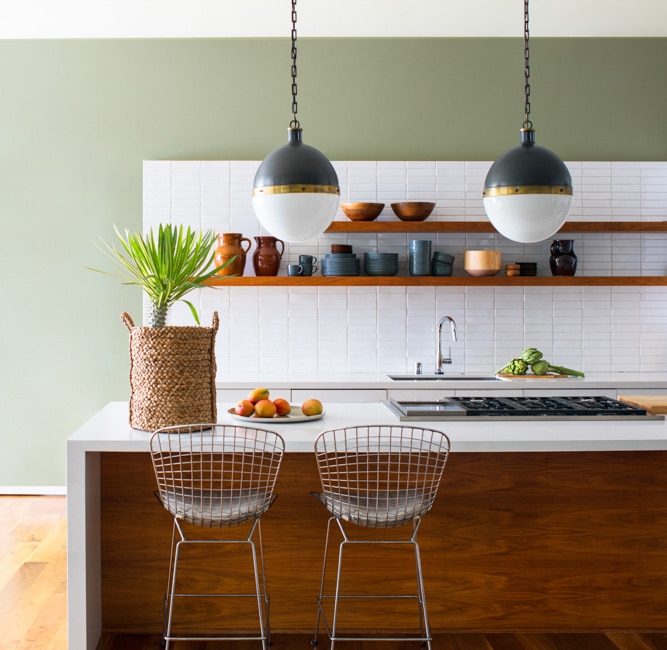 Brighten Up with Bold Kitchen Wall Colours
For time-honoured kitchen colour schemes, white, gray, and neutrals provide a classic colour palette. However, with typically less wall space in the kitchen, it's a great room to play with brighter, stronger colours.
If you opt for bolder hues in your kitchen, be sure to add balance with softer, more neutral colours for design equilibrium. We love the zing of playful energy that Banana Yellow 2022-40 adds to this small kitchen with predominant white cabinetry. Scroll to the bottom of this page to see this same kitchen, but accented with Ravishing Red 2008-10 and Patriot Blue 2064-20.
Other lively hues homeowners love for a smaller kitchen wall colour include Smouldering Red 2007-10, Venezuelan Sea 2054-30 and Blue Danube 2062-30.
Classic white kitchen cabinets pair perfectly with any pop of colour you choose in a kitchen. Some of our favourite white paint colours for the kitchen include White Dove OC-17, Silver Satin OC-26, and seen here, White Heron OC-57.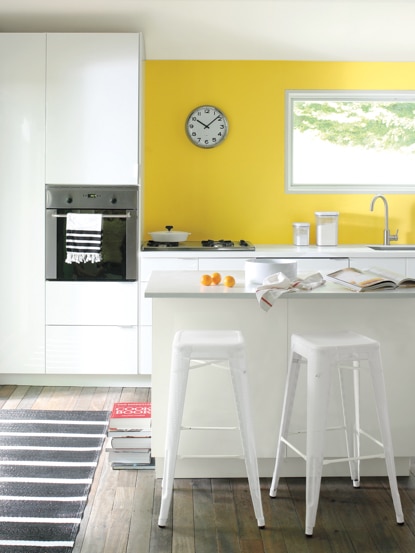 Curated Colour for Kitchen Cabinets
Cabinets tend to be the visual centerpiece in the kitchen, so choosing the just-right colour is important.
Blues, greens, and pale or muted grays are very popular in today's kitchen. Here, pale gray Titanium OC-49 on both walls and cabinets opens up this small kitchen space. This sleek, monochromatic look uses sheen to differentiate the surfaces: Matte on walls, satin on cabinets, and semi-gloss on trim.
Undoubtedly, painting kitchen cabinets is more affordable than replacing them. While doing it yourself may hold appeal, refinishing your cabinets can be challenging for even the most ambitious DIY-er. For example: Cabinets must fully dry between steps, making it a multi-day job. but then again, these are the 2022 Best Colors, Styles & Inspirations for the Kitchen.
We recommend hiring a professional painter for the best outcome. It's also worth noting that professional painters prefer Benjamin Moore's ADVANCE® Interior on kitchen cabinetry for its hard, furniture-quality finish. So be sure to put ADVANCE® on your shopping list, whether doing it yourself or hiring a painting pro!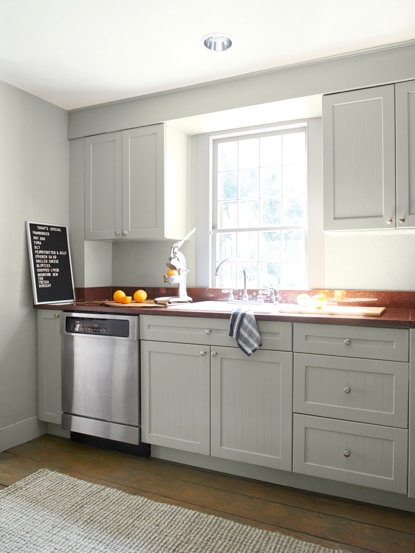 Kitchen Island Colours Add Spice
Not quite ready for a full kitchen cabinet re-paint? Use dynamic hues to breathe a bit of your personality into your kitchen in small doses.
Consider a fresh coat of paint colour for your lower cabinets only. Or highlight a central kitchen island with bold colour. Use colour to creatively delineate different spaces in your kitchen—from a work area, to shelving insets, to furniture.
Here, a deep blue kitchen island offers high-impact style in Oxford Gray 2128-40. The choice of a rich semi-gloss sheen elevates it from practical to posh.
Other kitchen island paint colours that offer a major wow factor include Aegean Teal 2136-40, Tarrytown Green HC-134, Kendall Charcoal HC-166.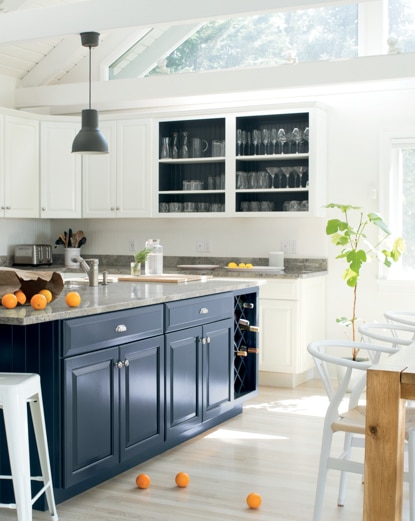 A Refreshing Green Kitchen
From the soft sage of Gray Mirage 2142-50 to the muted jade of Herb Bouquet 460, green paint colours effortlessly bring the outside in to any room. Verdant hues provide a fresh, airy sensibility, whether in a sleek contemporary kitchen or a cozy cottage kitchenette.
Looking for green kitchen paint colour ideas? Consider layering a slight variation of greens in your kitchen design. Here, warm Fernwood Green 2145-40 feels fresh against a cooler green, Flora AF-470, while the deep blue Witching Hour 2120-30 grounds the space.
Rich brown paint colours like French Press AF-170, Fairview Taupe HC-85, and Gettysburg Gray HC-107 are also favourites in the kitchen for their earthy neutrality and depth.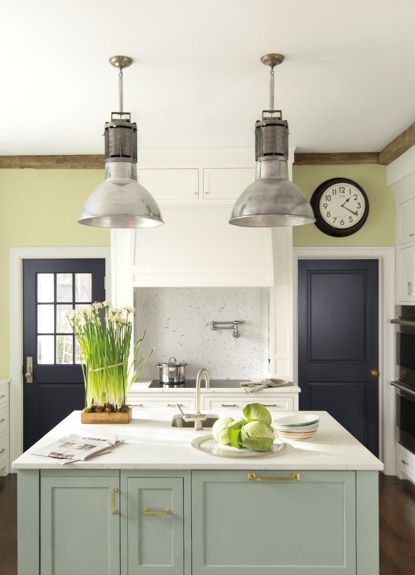 Layered Blue Paint Colours in a Modern Kitchen
Light blues and greens set a relaxing mood: Why not bring that calming energy to one of the busiest places in the home?
Here, the layers of blue paint colours in this midcentury kitchen create a refreshing atmosphere and conjure blue skies—even on the rainiest of days. Oxford Gray 2128-40 on the kitchen walls and cheery Blue Hydrangea 2062-60 on the lower kitchen cabinets create a soothing monochromatic colour scheme. A tinge of blue undertone in Patriotic White 2135-70 on the ceiling contributes to the colour synergy. A springy light green on the upper cabinets pulls in the greenery from outside using Guilford Green HC-116.
Other blue paint colours we love for the kitchen include Smoke 2122-40, Caribbean Mist 2061-70, and Woodlawn Blue HC-147 from our Historical Collection.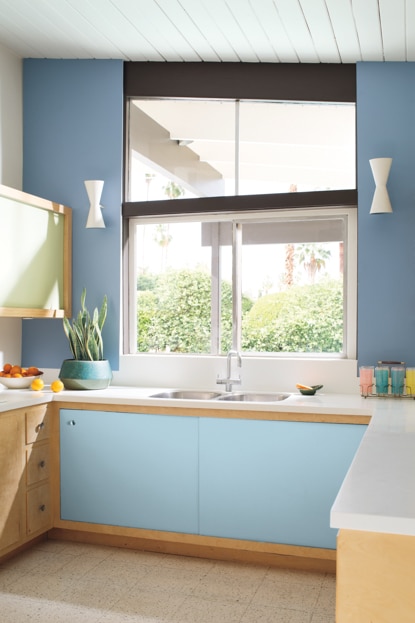 Related Posts